Given our addiction for good times, exploration and rum, a few years back we decided to spend a week around the New Year in the land of cigars, rum, the revolution and the Che. Ladies and gents, let's go get lost in Cuba!
We first headed West, where we established our base. Vinales, here we come! We enjoyed that strategic location which allowed us to visit some gems from the West of the island. What about the rum in all of that? Well, due to the economy of the country and the standard of living, rum was really affordable, so we made it our daily ritual. Each time we stopped somewhere for lunch, dinner or even for a simple break, we tried various rum-based cocktails in order to find the 'ultimate one'. Let's remember that some of the most emblematic ones come from Cuba, like Cuba Libre or Pina Colada… First activity: the famous mountains called "Mogotes" in the surroundings of the city where, back in the days, Che Guevara's troops were hiding. The outline of these Mogotes makes the local landscape unbelievable and so unique. Wandering in this area riding horses made that day very special and brought us back in a different era. We had the chance to ride through glades, agricultural fields, caves (inside the Mogotes), rustic cigar "factories", a sugar cane plantation – where we enjoyed some fresh sugar cane juice – and a coffee field. After such a full day of activities we got back to Vinales trying a new spot for dinner and cocktails.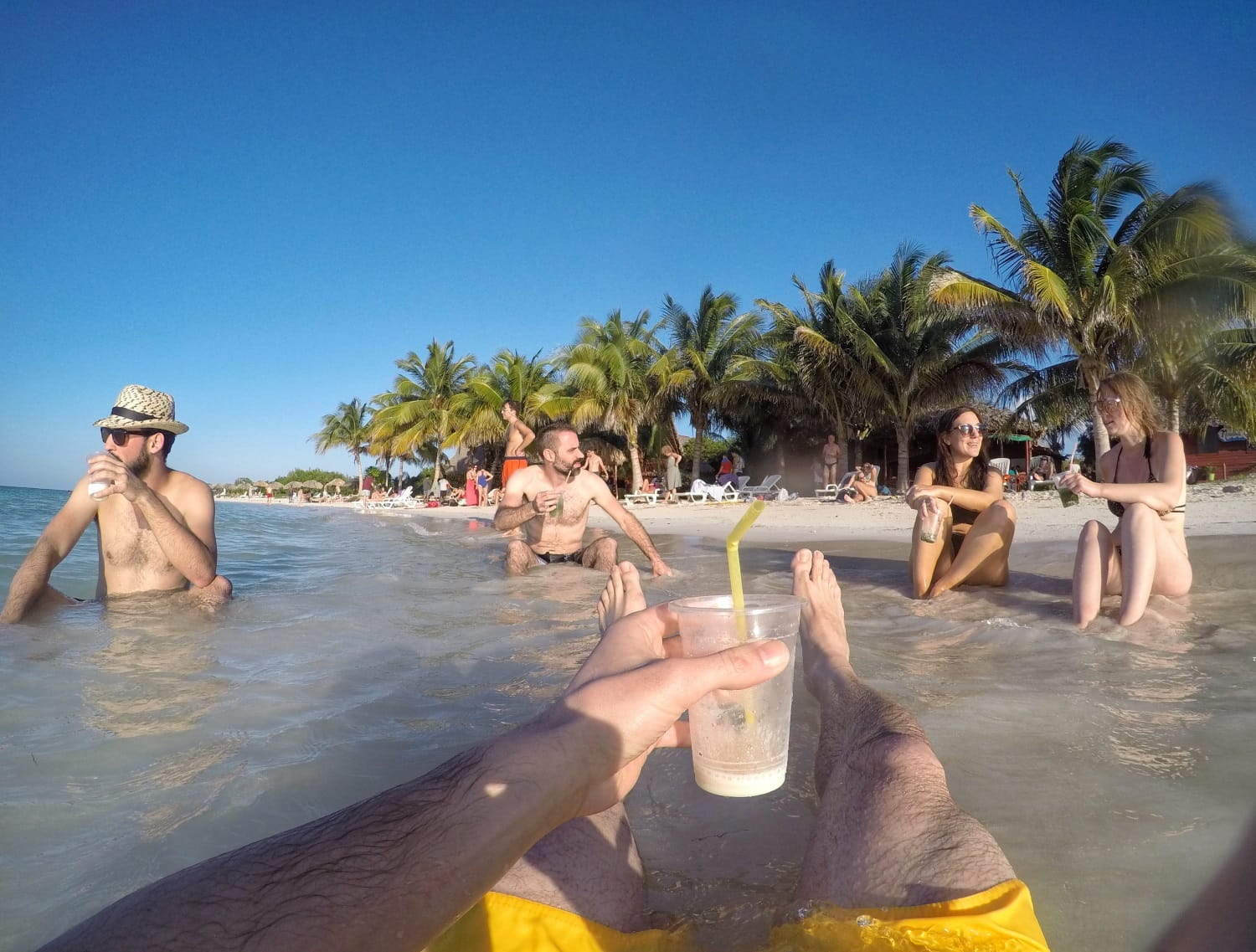 Second day, second adventure: let's head to Cayo Jutias for some snorkeling before chilling on the beach, sipping some cocktails seating on the sand during sunset (see picture above). Another iconic day in Cuba for the record. But hold on a minute, I'm going through that day way too fast. I have to cut through this idyllic story by confessing that the trip from Vinales to Cayo Jutias felt like a rally stage. The state of Cuban roads being as rustic as many other aspects of Cuban culture, roads feature a lot of potholes. In addition to this, picture a lovely but furious driver named Basil, flying over these potholes, in the dark, listening to eclectic music, and you will get an idea of this intense version of hitting back the road to the city. We spent a whole hour or two sobering up by valsing around the car seat, with our heads gently touching the ceiling from time to time. I now understand why Cuban percussion is so famous in a whole different range of meanings! Once safely arrived at Vinales we went back to our favorite evening activity: trying new food and new rums, without forgetting cigars of course. On the third day, we decided to visit Pinar del Rio for the various cultural aspects that make this city so special. The idea was to visit one of the tobacco planters and its factory, along with another type of factory making an iconic liquor named Guayabita del Pinar. This traditional liquor is made with the fruit of the Guava tree. If you are interested to know more in detail the history and process of this specific liquor, please visit this website which provides a very good explanation of its local heritage. On a funnier note, our guide that day was quite tipsy when he gave us a tour, probably due to all the alcohol vapors from the whole factory. After a quick lunch, our plan to visit a tobacco factory fell through due to the Christmas break. Instead, we decided to wander downtown to soak up the local culture and vibe before hitting the road back to Vinales for our evening routine.
After a few days in the West, it was about time to get familiar with Havana for the rest of our trip and New Year's Eve. We tried to visit the Havana Club Distillery but the Christmas break struck again. Instead we had a couple of drinks at the bar next door, listening to some live music. The same thing happened with the Cohiba cigar factory, closed during vacation. However, this time we hung out a little bit with the two guards on duty, who ended up selling us their monthly cigar ration for a very cheap price. We tried to capture this epic and unreal moment on polaroid, but our new friends freaked out that we would end up showing these pictures to the authorities. But this scene will forever remain captured in our memory.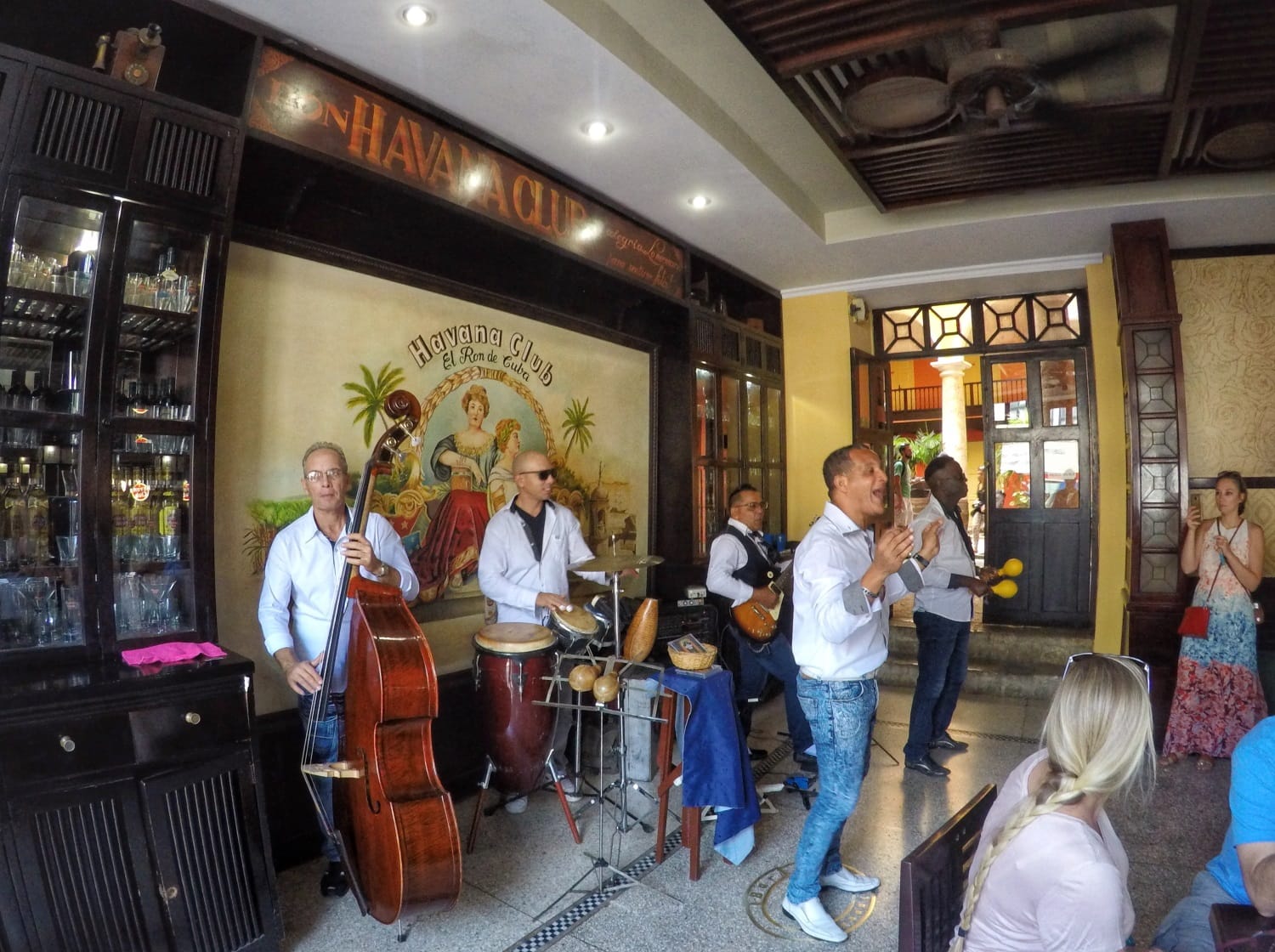 Outside from the rum and cigar microcosm, we visited different areas, from the old town to famous squares, museums, parks, antique markets, and walked by the waterfront. We also tried to escape the tourist traps and managed to eat local food at a market where the majority of customers were from the same neighborhoods. After so much exquisite food we had to go for a walk around the blocks, trying to avoid a food coma. We found ourselves randomly walking in residential streets in the early afternoon, while locals were peacefully chilling and doing chores. Not sure whether the excess of food, the cigars, or the last rum we had as a digestive brought us in some kind of spleen, but the next hour appeared as a scene straight from the famous Buena Vista Social Club film directed by Ry Cooder. doors and windows were wide open, offering a snapshot of local life. We could hear music from house to house alternated with kids shouting and running barefoot all over the place. Every day, we were like kids in a candy shop. Our European mindset would be struck by unusual scenes like locals playing chess on an old concrete public stage with the painting falling apart, next to the noisy waterfront road. But yet, they were stoically laying their strategy from their mind to the board (see picture below). Salsa dancers would rehearse on the Prado plaza (Paseo del Prado/Marti) without skipping a beat while a crowd of people was swinging by. At night, couples would wait for the sunset with a few bites on the lawn of the castle of the three kings of Morro (Castillo De Los Tres Reyes del Morro).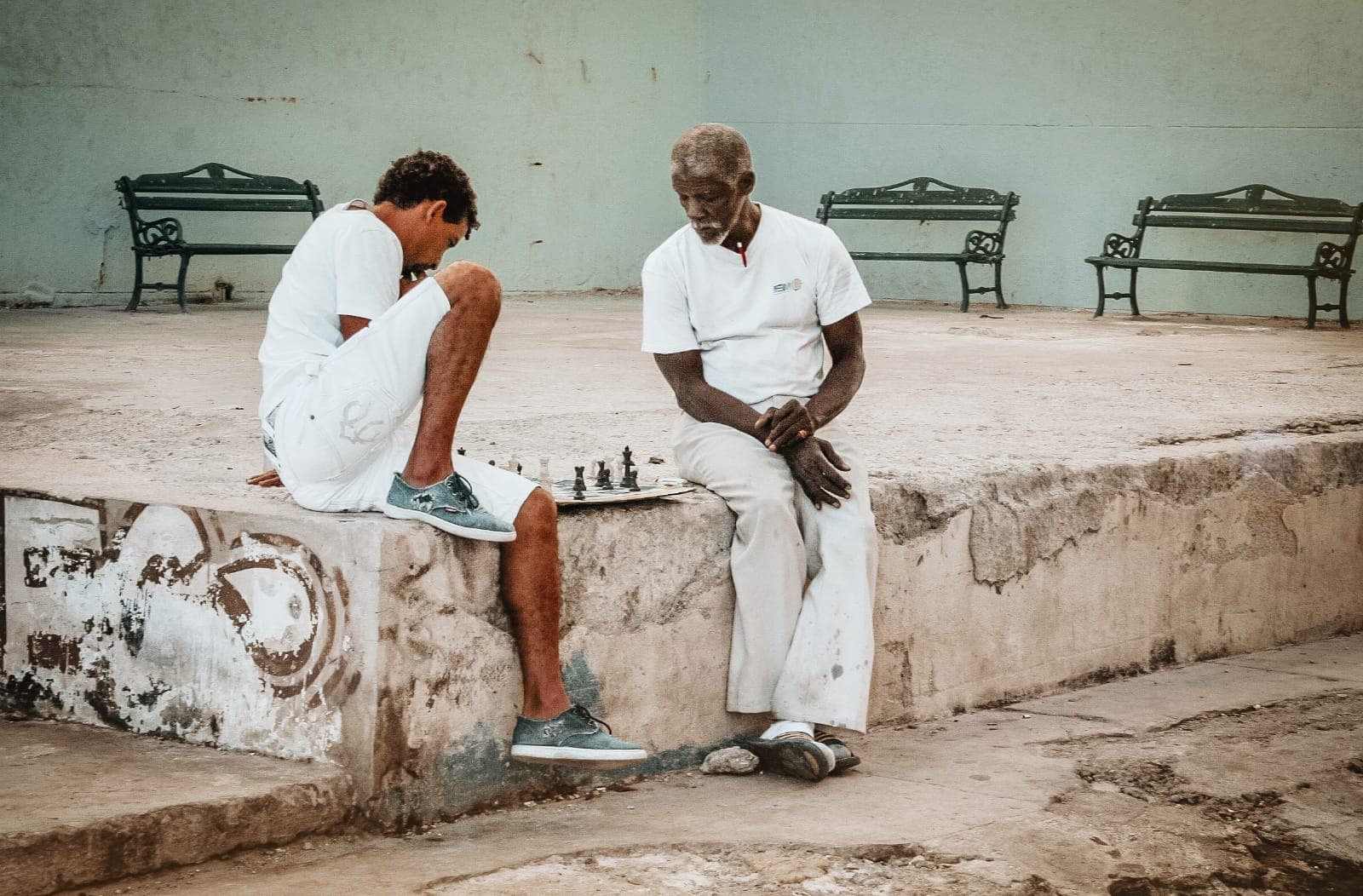 On our trip to visit the Institute of Cuban Art (Fabrica de Arte Cubano), we met a very nice driver and asked him for some recommendations, especially for New Year's Eve. He told us about this old tradition and how it became an entertaining event in the old town: back in the days, people would start the new year by mopping the floor of their house, washing away any bad luck and sorrow from the past year. Then they would throw the bucket of dirty water in the street. Obviously nowaday, in a capital like Havana full of tourists and visitors, the tradition has turned into this game where you would dump a bucket of water on the reckless souls who would dare to adventure in the streets – with clean water of course. So picture a bunch of tipsy and drunk folks partying in the streets, trying to avoid water flying around from balconies and rooftops. At the end, everyone is soaked to the bone, but in such a good spirit. We also asked our driver to find us good parties for the rest of the night. However, being seen as gringos, it got pretty challenging to get into any night club. Finally after having tried three without any success, we manage to find our way in one of them after 45 minutes of waiting. The rest of the story is a total blackout which led some of us to almost miss their flight the next morning (we won't name names, but you know who you are!).