Haiti
Price range: $$ ($30-60)
ABV: 43%
Tradition: rhum agricole (French)
Gargano classification: pure single agricole rhum
Ingredients: sugar cane juice (Vesou)
Age: 15 years
Distillery: Domaine Barbancourt, Haiti
Distillation process: double-distillation in copper pot stills
Casks: Limousin oak ex-cognac barrels
Ageing location: in Haiti (tropical aging)
Rum master: Delphine Gardère
Sugar tests: 0-5 g/L
 Citrus
 Pepper
 Oak
Context
Barbancourt is a well-established rum producer from Haiti, whose founder had roots in the French region producing Cognac. That explains the usage of sugar cane juice instead of molasses (French tradition), and the double distillation technique, which is used for fine cognacs.
The Réserve du Domaine, aged 15 years, is the top offering, with a white, a 4- and 8-year old also available.
The Bottle
This rum came in a very colourful cardboard box (based on famous Haitian artist Felix Jean), which houses a classic, low-neck semi-opaque bottle. I'm not a huge fan of screw caps for (what I consider to be) premium rums, so this was a little disappointing. The gold labelling is very classic, and offers a decent amount of information about what you're about to sip – albeit in French, for our non-French readers.
Into the glass
In the glass, we get a nice gold colour with reasonably thick legs for a Rhum Agricole. Immediately, spiciness is come out, as well as hints of citrus, all offering a fairly floral impression. Despite the age, which tends to iron out the typical Agricole aggression, you still get the sense that you are not nosing a molasses-based rum.
Overall, you get a nice floral bouquet, possibly a tad on the light side in terms of aromas.
The Mouth
This rum does reveal a bit oak flavours that are a bit bolder than the floral notes from the nose. There are some peppery touches, and a long, citrusy finish that I find very appealing, although not as complex as I would expect from a 15 years.
Conclusion
The top offering from Barbancourt is an interesting Agricole rum that I found a bit more floral and less vegetal than other French AOC Rhums Agricoles (if that makes sense).
Although I really enjoyed this rum (the bottle didn't last long) I must admit that I would expect a bit more complexity for a rum stating 15 years.
.
The screw cap, referencing Barbancourt's history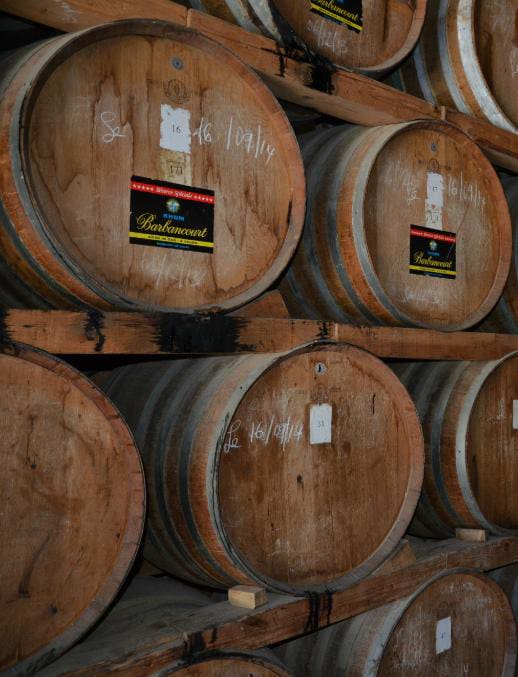 Casks in the warehouse of the Barbancourt Estate
Floral profile

Accessible for an agricole
A little light on aromas

Information difficult to come by