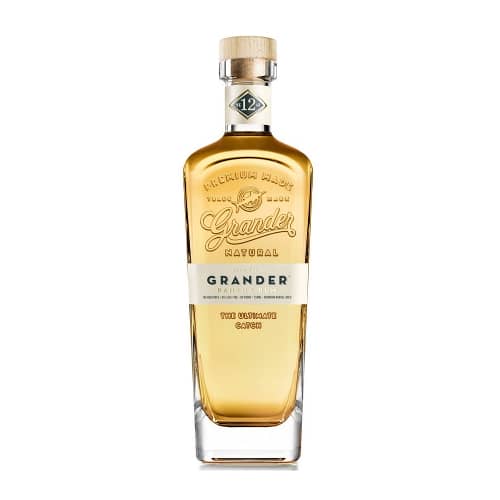 Panama
Price range: $$ ($30-60)
ABV: 45%
Tradition: ron (Spanish)
Gargano classification: modern rum
Ingredients: molasses
Age: Minimum of 12 years old (blend)
Distillery: Las Cabras Distillery
Distillation process: Column Still
Casks: Re-used Ex-Bourbon, American White Oak Casks, some of which previously held sherry
Ageing location: Panama
Rum master: Francisco Jose Fernandez Perez; Dan DeHart
Sugar tests: 0-5g/L
Vanilla
Almond
Orange marmalade
Context
Grander Rum is an independent bottler of Panama Rum. Distilled, aged, and bottled in Panama at Las Cabras Distillery, the rum is aged in a variety of casks, including ex-bourbon American white oak, ex-sherry casks, ex-rye whiskey casks, and ex-scotch casks. The rum is without any added sugar or additives. The age statements on the bottles denote the minimum age of rum in the bottle. The Grander line contains an 8 year-old, 12 year-old, Barrel Series finished in a variety of casks (including ex-rye whiskey), a Trophy Release containing a blend of 8-15 year-old rums, and finally a variety of single barrel offerings.
The Bottle
The bottle is beautiful. It is a sloped obelisk, with a tight cork enclosure. The bottle has a heavy glass base, and feels sturdy. The bottle is informative, with a lot of details about the rum, including its distillation, origins, and age. It clearly states that the rum has no additives, no sugar added, and that the age on the label is the true age of what is in the bottle. The embossed graphics of "Grander" and the symbolic Marlin are a nice touch. This feels like a "premium" product by the bottle alone. Most important is the information on the bottle allowing the purchaser to have an understanding as to what they are buying.
Into the glass
In the glass, the rum is a pale straw color. Surprisingly, this expression is much lighter in color compared to the 8 year-old. This is presumably due to the use of re-used ex-bourbon casks as opposed to first-fill ex-bourbon casks. It has a thin-to-medium body, coating the glass a little as you swirl it. The aroma is pleasant, with creamy vanilla, vanilla custard, almond and slight toasted oak. There is no alcohol on the nose. It is a pleasant nose that is inoffensive. There is, however, a slight presence of orange marmalade underlying the nose throughout, which is enjoyable.
The Mouth
On the palate, the rum has a medium-thin mouthfeel. Vanilla is dominant here, with a nice dusting of oak and baking spice. After the spice dissipates, the palate shifts to almond and that orange marmalade, with a creamy vanilla. The rum is dry, and although slightly astringent it is not harsh. There is no alcohol burn at all. It is a light, inoffensive rum that offers straightforward flavors without much complexity or unpleasantries. Surprising, one does not experience any sherry characteristics in this rum, despite the use of casks that previously held sherry.
Conclusion
An unadulterated 12 year-old rum from Panama, Grander offers a decent flavor profile that is straightforward and not complex. It offers a good burst of vanilla, almond and oak spice, but the pleasant surprise is the undertone of orange marmalade. The nose and palate are synonymous with one another. The column still distillate is light in body and flavor, and pleasant nonetheless, but doesn't offer much else in terms of complexity or bolder flavors. However, it doesn't appear that is what this rum is trying to be, especially considering the blenders choice to use re-used ex-bourbon casks which impart a lighter profile than first-fill bourbon casks that are present in the 8 year-old offering. This is another pleasant entry into the column still rum from Panama, but one should not expect too much complexity going into this. Again, this would be a great entry point for those looking to expand into well-crafted, unadulterated column-still rum with a tremendous age statement.
Disclaimer: Grander Rum graciously provided samples for this rum to us.
Location of the Las Cabras Distillery
Pleasant aroma and flavor

Orange marmalade undertones

Beautiful Bottle
Not complex

Flat

Short finish