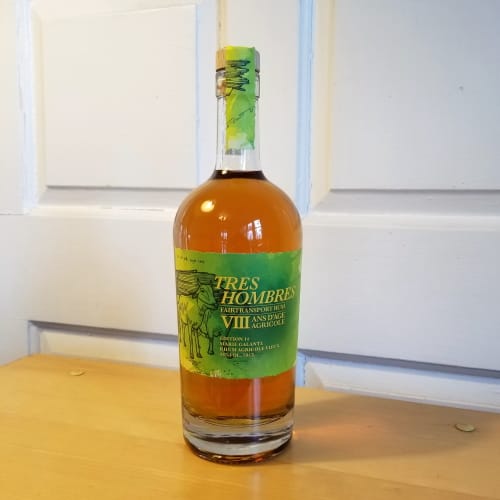 France
Price range: $$$ ($60-90)
ABV: 44%
Tradition: rhum agricole (French)
Gargano classification: agricole rum
Ingredients: sugar cane juice (Vesou)
Age: 8 years
Distillery: Las Cabras Distillery
Distillation process: Column Still
Casks: Single cask American Oak (only 6)
Ageing location: Marie Galante (tropical), plus months sailing across the Atlantic Ocean (dynamic)
Rum master: Andreas Lackner
Sugar tests: 0-5g/L
Dried fruits
Wood
Floral
Context
Tres Hombres rum is a brand from Fairtransport Shipping company and is what we can call an independent bottler company. However, it might be the most unique one. Not because of how it tastes – hold on we will get there in a sec – but because of the ethics and philosophy of the brand. The name of the brand says it all, Fairtransport Shipping. The company started with one sailing boat and is about to have three fully ready to sail by the time you read these lines. Their concept is to sail across the seas and oceans to buy, sell and trade fine and delicate products (coffee, cocoa, vanilla and rum) only using the wind as a natural force. Yes, they cherry pick barrels of aged rum via the countries and islands they stop by in the Caribbean, but they do so with zero carbon emission. To this date, it might be the most eco friendly rum brand out there.
The Bottle
I bought this rum without any packaging, which you can understand when you consider the context and the position of the brand. No extra, unnecessary cardboard material, just the rum in its simplest expression. That being said, the bottle is very minimalistic, maybe too much… Although it looks really authentic, some additional information would have been nice. The shape and outline of the bottle appear very classic and generic. There is no distinctive feature to differentiate it from any others.
Into the glass
In the glass, the rum appears clear and light; there are shades from yellow to gold. Floral and dried fruits notes dominate the aromas. Then, a woody tone comes to the nose alongside brown sugar. I find this combination very elegant because it's well-balanced; there is no sharpness or aggressiveness. Despite the brown sugar tone, the nose is dry, with an undertone of burnt rubber/solvent (empyreumatic).
The Mouth
Very well structured with some complexity. I definitely taste dried fruits along with baking spices notes. Maybe even lightly smoked. Again, this rum feels very elegant. Although there is no sugar added, a hint of sweetness is somehow perceptible. I would say the finish is medium to medium long.
Conclusion
Despite the simple and very average look of this bottle, this 8 years old Tres Hombres rum cut from the other Agricole rums because of the specificity of its aromatic profile. Yes it is dry, yet floral and dried fruits notes give to this rum a unique and memorable identity.
Structured and balance

Elegant

Rich aromas
Simplicity of the label

Too few information