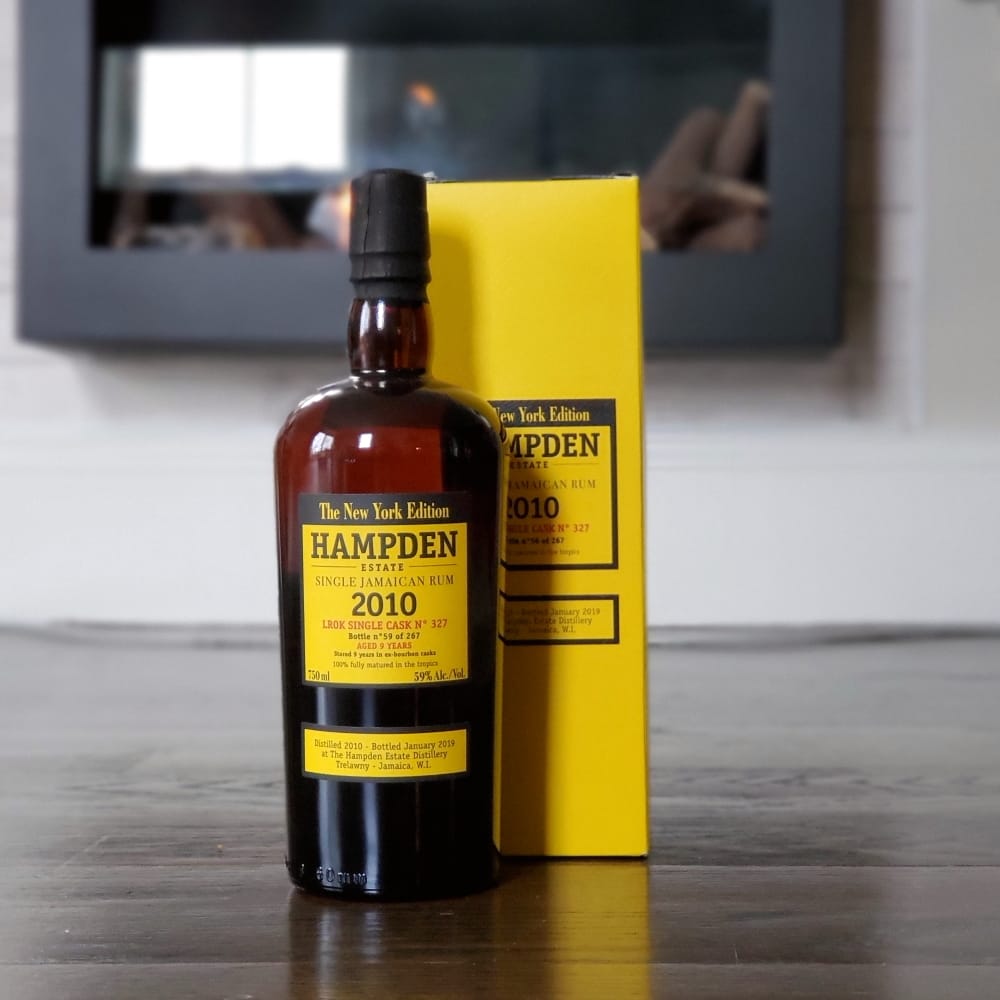 Jamaica
Price range: $$$$$ ($120+)
ABV: 59%
Tradition: rum (British)
Gargano classification: pure single rum
Ingredients: molasses
Age: 9 years (minimum)
Distillery: Hampden
Distillation process: Pot Still (Double retort Forsyths)
Casks: Used bourbon barrels
Ageing location: Jamaica
Rum master: Vivian Wisdom
Sugar tests: N/A
Marzipan
 Acetone / Nail polish remover
 Vanilla
Tropical fruits
Context
Hampden is an iconic distillery from Jamaica, located in the northwest Trelawny parish. Hampden Estate started as a sugar plantation in 1753 and for 250 years it remained owned by the same two families, producing only bulk rums, until it was sold to the Hussey family in 2009. Since then the group has put efforts into establishing the Hampden brand and selling directly under their name through bottling like Rum Fire and Hampden Gold, as well as a partnership with La Maison & Velier. Hampden is well known for its high-ester rums that have some of the funkiest taste you can find, highly praised for food-flavoring.
This particular bottle is a special edition for New York, distributed through La Maison & Velier.
The Bottle
The bottle is the typical dark Velier bottle with a wooden-topped cork and a beautiful yellow label – reminding the New York cabs -– showing "Hampden Estate The New York Edition 2010 LROK Single Cask No. 327 Single Jamaican Rum". This provides a lot of information to the rum aficionado: LROK is a mark that stands for "Light Rum Owen Kelly" (around 300-400 Ester Level gr/hL AA), "Single Jamaican Rum" refers to its Gargano classification and acknowledges its 100% pot still distillation from Hampden's Forsyths stills, and was distilled in 2010, aged for 9 years in ex-bourbon casks.
Into the glass
The glass shows an old gold with copper and orange shades. At first the nose has some typical acetone notes that can be felt but slowly decreases as the rum has time to open up. This is quickly followed by tropical fruits, olive juice and empyreumatic medicinal notes. After some time I feel hints of vanilla and marzipan and it makes me think of rum raisin ice cream (that I typically dislike, but here it smells amazing). Then the longer it opens up the more tropical fruits, including banana and pineapple, seem to emerge. Overall a great nose, well balanced and structured. 
The Mouth
Tasting this gem confirms the marzipan and one can detect almond, spices, pepper, hints of olive and eucalyptus notes. It is on the dry side, quite sharp and robust – a rum with character. While the high 59% ABV provides some warm sensations, it is very well integrated and not overwhelming. The best Hampden LROK I have tasted thus far!
Conclusion
This New York edition is one great rum, showcasing what Hampden is able to deliver with the LROK mark. This might displease palates not used to Jamaican rums, but will delight the Hampden fans – if you can get your hands on a bottle or sample of this rare rum. This is definitely very promising for future rums that Hampden will produce, I will be looking forward to the upcoming Hampden releases available around!
Great balance for a high-ester Jamaican high-proof rum

Beautiful Velier bottle with detailed information
Expensive

Hard to find: unique edition for New York