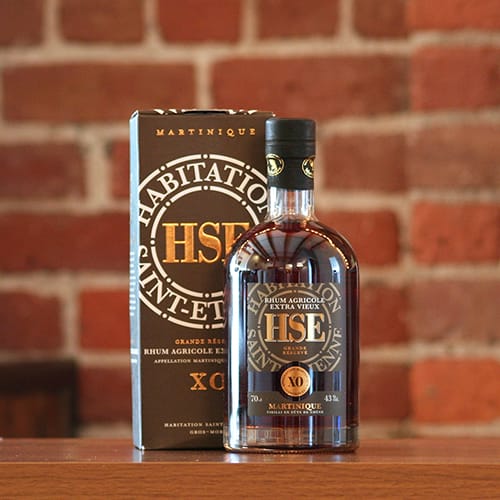 France
Price range: $$$ ($60-90)
ABV: 43%
Tradition: rhum agricole (French)
Gargano classification: agricole rum
Ingredients: sugar cane juice (Vesou)
Age: 6 years minimum (blend 6 to 10 years)
Distillery: distilled at the Simon Distillery and Bottled by HSE (Habitation Saint-Etienne)
Distillation process: traditional column stills
Casks: new american oak barrels and new french oak barrels
Ageing location: in Martinique, at HSE (tropical aging)
Rum master: Lionel Lampin
Sugar tests: 0-5 g/L
 Wood
 Dried fruits
 Pepper
Context
Habitation Saint-Etienne (HSE) is a well-known French rum producer from the island of Martinique, in the Antilles. The rum is distilled at the Simon distillery, but all the blending and maturation are performed at HSE. Well known for their rhum agricole, HSE's aromatic signature is a unique woodiness produced by aging in new oak barrels.
They use new French and American oak barrels for their blending processes and rums are aged between 6 to 10 years. All HSE rums fall under the Martinique AOC, the only location in the world to have obtained an AOC standard for its rums.
The Bottle
The HSE XO comes in a beautiful cardboard case with a few details about the HSE's heritage and what to expect from the bottle. The bottle itself is heavy and transparent with a thick bottom, and the design is very clean, strong and classy.
After I removed its wooden-topped cork I enjoyed the beautiful and typical pop sound, and could smell its first aromas unveil.
Into the glass
Pouring this rum into a glass revealed a rich orange/gold color, almost mahogany. I could identify thin legs descending the glass' side with a normal-to-fast speed. Nosing the glencairn glass I immediately got charmed with some dried fruits flavors and a  clear woody background. There are hints of vanilla and tobacco as well.
It seems quite complex, although not too difficult or harsh for an agricole rum. After several inhales I really started to want to taste this rum!
The Mouth
Tasting this XO is a very enjoyable experience. Its balanced texture is a bit on the dry side, but with its robust character it will be appreciated by numerous drinkers. Its rich taste confirms the dried fruits aromas, as well as wood and black pepper. I have also identified some subtle cocoa and nutmeg hints.
The finish is quite long and retain the initial woody and dried fruits aromas.
Conclusion
The HSE XO is clearly an agricole rum to try, maybe one worth trying early on when discovering the world of rhum agricole. Well balanced with both strength and finesse, your palate will enjoy these dried fruit flavours spiced up by the pepper and woody notes. Its finish is superior to many rums in a similar price range, and is definitely worthy of its Martinique AOC.
Old distillation column at Habitation Saint-Etienne (HSE)
Bottle & case information

Typical HSE wood aroma

Minimum age statement

Complex but fruity

No added sugar
A bit pricey for your "daily" Rum

Little details on production process and blending