Jamaica
Price range: $ ($30 or less)
ABV: 63%
Tradition: rum (British)
Gargano classification: pure single rum
Ingredients: molasses
Age: Unaged
Distillery: Worthy Park Estate
Distillation process: 100% Pot Still
Casks: N/A
Ageing location: St Catherine, Jamaica
Rum master: Gordon Clarke
Sugar tests: 0g/L
Banana
Vanilla custard
Light citrus
Overripe fruit
Cane / grassiness
Context
Worthy Park Estate was established in 1670. In 1720, it began commercial production of cane and sugar, which continues to this day. Since 1918, the Clarke family has owned the Estate. Worthy Park produced rum sporadically since the 1740s, but rum production stopped in 1962. However, in 2005, Worthy Park Estate began producing rum, yet again. The primary brand produced by Worthy Park Estate is Rum-Bar, which was launched in 2007. They are 100% pot-still Jamaican rum. The rums are synonymous with the "Jamaican Funk," and are almost always noted for having a distinct banana-note. Rum-Bar Overproof is an unaged, overproof offering and stands as the flagship of the Rum-Bar brand.
The Bottle
The bottle is tall and slender. It is enclosed with a screw cap, which is okay here. The bottle is easy to grab and pour from. The affixed-labels are a high-gloss paper, with green accents to represent the Overproof version. Broadly promoted on the front is the Jamaican flag, symbolizing significant Jamaican pride. The rear label contains quite a lot of information, despite its small size. The rear label gives information on the Estate as well as its history. It also goes into detail about the rum itself: a blend of three unaged rums distilled in a 100% copper pot still. However, the bottle doesn't give information on the respective fermentation periods of the rums in the blend, like the Silver label.
Into the glass
In the glass, the rum is clear, as it is unaged. The body appears thin, with thin legs on the glass. The nose is very intense, with banana and overripe fruit dominating the aromas. There is a slight citrus note underneath, accompanied by notes of cane and grassiness. Interestingly, there is an additional note of vanilla custard present on the nose. It is a very intense, remarkable nose. Despite being 63% alcohol by volume, the alcohol is not very dominant here, which can be deceptive as you take a sip. It is present, but not overpowering, which is striking. The aromas here are powerful, but sophisticated and transportive. After exploring the aromas in this rum, one almost feels like they're standing in the middle of a cane field in Jamaica. The aromas are rather alluring, pulling you in to take a sip and explore what more it has to offer.
The Mouth
On the palate, the rum has a medium body. Despite the high proof, there is only a slight burn present, although it is understandable "hot" due to the high ABV. The palate is dominated by overripe fruit and banana. The front palate presents cane/grassiness as well as a slight citrus note. The mid-palate is interesting because as the banana notes become dominant, they are accompanied by a creaminess, with vanilla custard notes. It's very intriguing, and gives way to a rush of overripe fruit. As the finish approaches, those dominant overripe fruits fade away to some slight salinity with a pleasant balance of fruit. Being such high proof, this rum is likely not intended for sipping neat, but will certainly add extra punch and depth in a variety of cocktails. It can be off-putting to sip this neat for an extended period of time, but there certainly are those out there that enjoy overproof rums in that manner: they certainly would not be incorrect in reaching for this offering to accomplish that, as it is delicious.
Conclusion
Rum-Bar Overproof is one of the more intense rums on the market. It's hard to say that this is simply Rum-Bar Silver with higher ABV because although it presents an intense banana note, the overripe fruits and vanilla custard notes are unique and certainly an experience that shouldn't be overlooked. Although one who is not familiar with Jamaican rum shouldn't go for this at the outset, those who are interested in overproof Jamaican rum should definitely seek this offering out to explore. The flavors and aromas are certainly deserving of everyone's attention. At around $30 for a 750ml bottle, it's an incredible offering that every rum fan should seek out to add to their bar.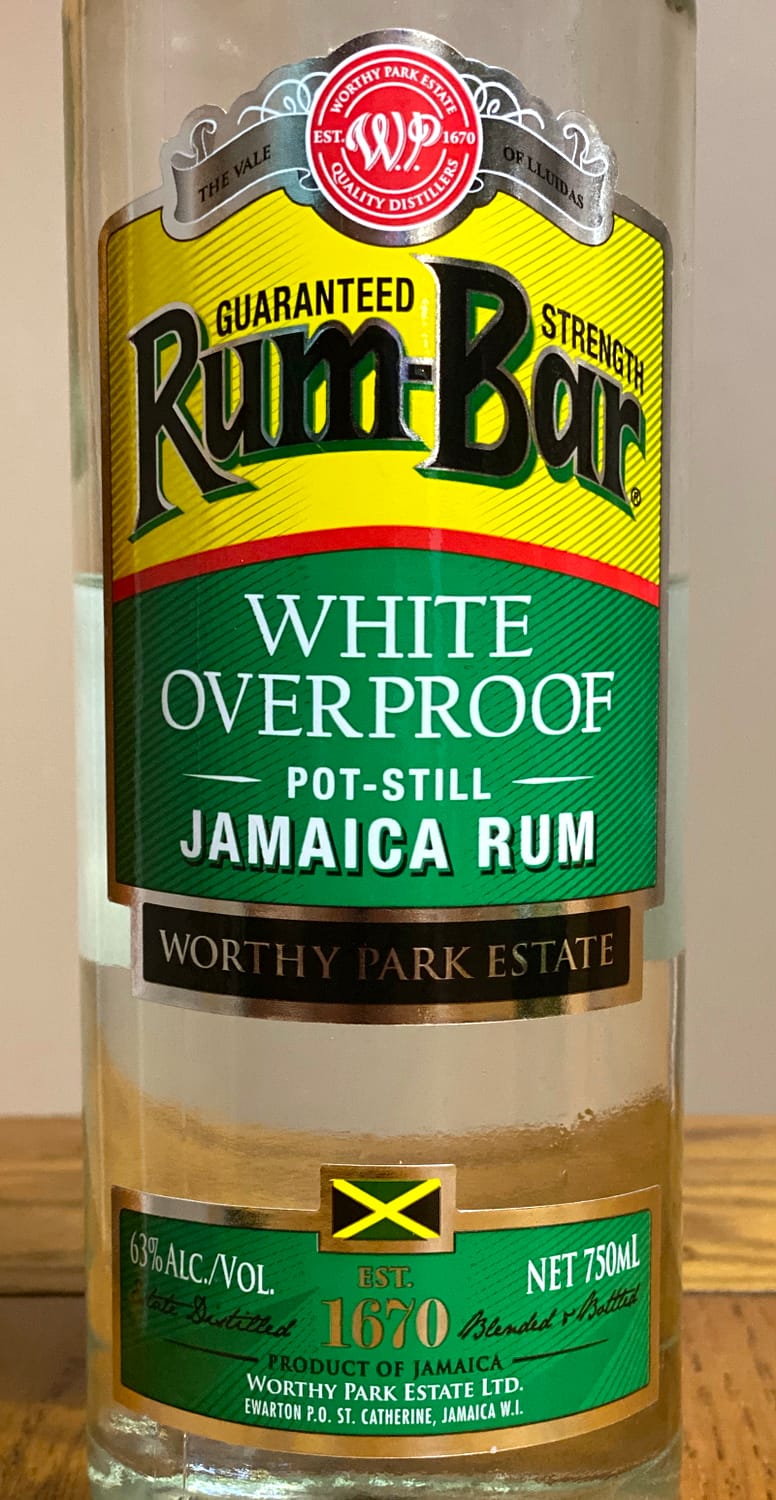 Great information on label

Overproof

Jamaican "funk"

Incredible banana notes

Unadulterated

Strong overripe fruit notes
Thin body

Slightly astringent

Alcoholic heat