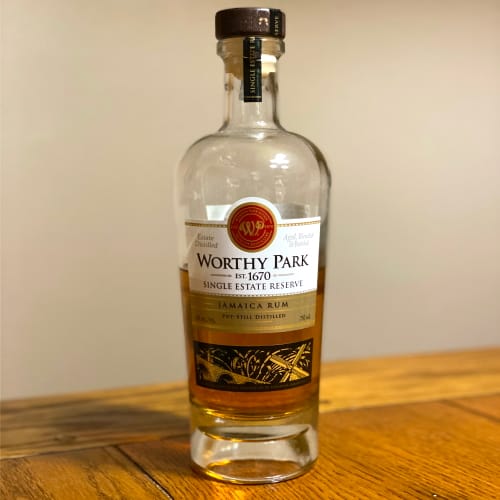 Jamaica
Price range: $$ ($30-60)
ABV: 45%
Tradition: rum (British)
Gargano classification: pure single rum
Ingredients: molasses
Age: 6 to 10 years
Distillery: Worthy Park Estate
Distillation process: 100% Pot Still
Casks: American white oak, ex-bourbon casks
Ageing location: St Catherine, Jamaica
Rum master: Gordon Clarke
Sugar tests: 0g/L
 Vanilla
Toasted Oak
Caramel
Crème brûlée
Light baking spice
Context
Worthy Park Estate was established in 1670. In 1720, it began commercial production of cane and sugar, which continues to this day. Since 1918, the Clarke family has owned the Estate. Worthy Park produced rum sporadically since the 1740s, but rum production stopped in 1962. However, in 2005, Worthy Park Estate began producing rum, yet again. They are 100% pot-still Jamaican rum. Worthy Park Single Estate Reserve is the first release under the Worthy Park range of bottlings, which also includes various cask-finished rums as well as a 2006 vintage 12-year old offering. The Worthy Park Single Estate Reserve is a blend of rums aged 6-10 years in American white oak, ex-bourbon casks.
The Bottle
The bottle is short and squatty, with a thick and heavy glass base. It is enclosed with a synthetic cork stopper. The bottle is elegant and curvy, tall and slender. The front label is beautiful, with a split-label organization of two satin-finished paper labels. The top label proudly displays that this is an Estate-only product. The bottom label has an artistic depiction of sugar cane and a windmill. The rear label has a lot of nice information on it, including information on the history of the Estate and some details on the rum itself: that is a blend of rums aged 6-10 years in American white oak, ex-bourbon casks. However, there isn't any further information on the rums in the blend, like the fermentation times, etc.
Into the glass
In the glass, the rum is a golden, light amber color. The body appears to be medium viscosity, with matching legs. The nose is simply beautiful. It smells like one just waltzed into a patisserie on a Saturday morning. The nose is soft and elegant, with lovely notes of vanilla, oak and caramel. There is a presence of light baking spice and crème brûlée. The nose is well integrated and balanced. The aromas remind one of banana's foster and baked spice cookies. One would be hard-pressed to find anything wrong with the nose on this rum. The aromas here are beautiful and inviting.
The Mouth
On the palate, the rum is a medium body. It is dominated by baking spices and toasted oak, but the inherent banana notes are still present underneath, accompanied by some cane/grassy notes as well. On the front-palate, the rum is dry and presents a toasted oak character. As the tastes evolve, banana leaf and baking spices are presented as the mid-palate arrives. The baking spices are incredibly balanced, showing signs of nutmeg, cinnamon, clove and vanilla bean without any one of them dominating. Although the baking spices don't really fade away, as the finish arrives with some slight grassiness and cane notes. It is at this point that the vanilla bean becomes more prevalent, supported by the other baking notes on the finish. This is just a beautiful rum that is reminiscent of well-crafted pasties. This rum is absolutely a "sipper" at heart and the proof certainly is perfect for that. It could probably excel when used in spirit-forward cocktails like an old fashioned or a Negroni-inspired cocktail, should that be a preference. However, simply having this in the glass neat is perfect.
Conclusion
Worthy Park Single Estate Reserve is one of the finest examples of Jamaican rum available. One would have a hard time looking for something wrong to say about this rum. At around $60 per 750ml bottle, it is a remarkable option in today's market, and one would not be disappointed in having this in their collection. The notes of baking spices are incredibly balanced and well-integrated with the character of the rum itself. This is a real treat for anyone who is interested in exploring fine, aged Jamaican rum. What is presented here is Estate-made Jamaican rum with a very respectable age range, showcasing the finer elements of a well-aged rum, while displaying a level of sophistication and elegance that is hard to come by. Worthy Park Single Estate Reserve is a rum every rum aficionado and beginner should explore. To ignore this offering from Worthy Park Estate would be a disservice.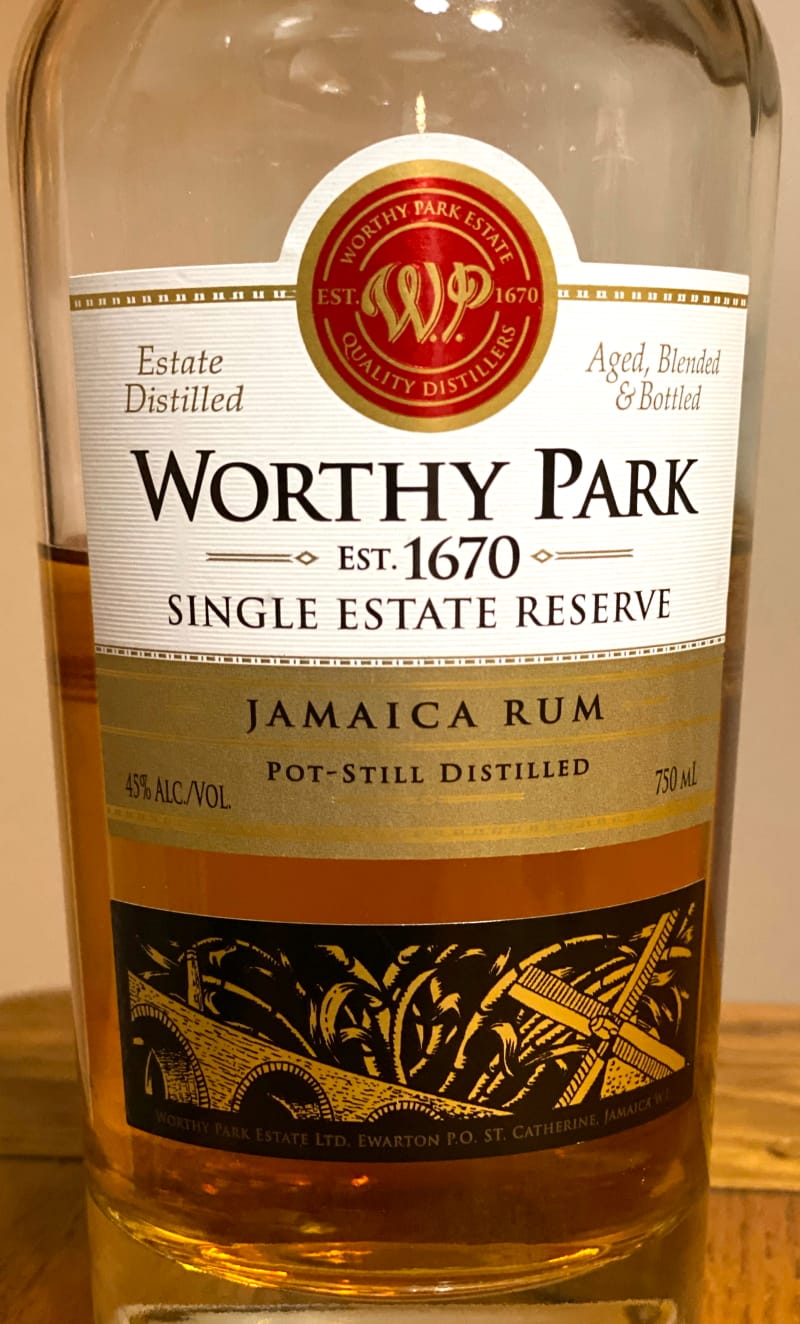 The two beautiful front labels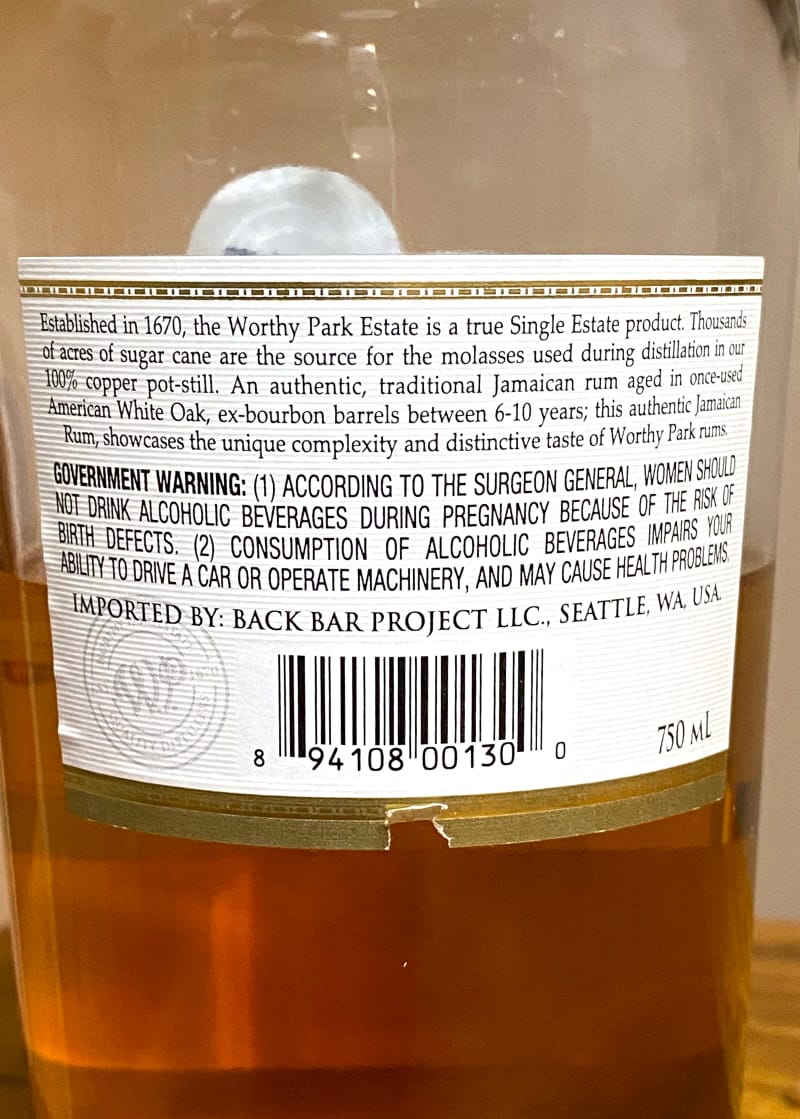 The history of the Estate
Detailed label

Perfect proof

Well-balanced and integrated

Patisserie aromas

Unadulterated

Very complex
We're still looking for one!