International roots
Like many fine produce, the history of rum is intertwined with colonization. Unlike Scotch or cognac, rum is not rooted specifically in one country or a territory. Although many people agree that the Caribbean Islands are rum's Mecca, the history of rum is a result of a mixture of influences from all around the world.
It might come as a surprise for some, but sugar cane is not originating from the Caribbean Islands, but from from Asia instead. Sugar cane was discovered there during the First Crusade by pilgrims, from 1096 to 1099; it was already cultivated in New Guinea, Indonesia, the Philippines, and India. Since sugar cane was the only natural source of sugar, it was considered as the 'white gold' of that time. As a consequence, it was feeding many covetousness and conspiracies.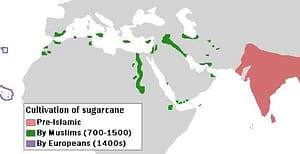 Through these Asian territorial conquests, sugar cane has been progressively introduced in the Arab world and in Europe, where it was such a major economic issue during the 14th century. Only then sugar cane was introduced in America and in the Caribbean Islands via the discovery of the new world by Christopher Columbus along with other explorers.
Colonization and the sugar cane trail
From the 16th century onwards, Spanish colonizers planted sugar cane in Haiti, Puerto Rico, Haiti and Cuba. In parallel, the Portuguese brought sugar cane in South America, especially in Brazil which became the first sugar cane producer in the world by 1625. At the same time, while the Spanish were spreading across South America, led by their thirst for wood and gold, they left a lasting sugar cane trail behind them. The 16th century was mired in these intense struggles and wars between French and English colonizers for the control of the remaining parts of the Caribbean Land (Barbados, Jamaica, Martinique, Guadeloupe).
At that time, the spirit made from sugar cane was far from today's fine liquor, and was therefore almost exclusively used as a relief for slaves and corsairs' pains and struggles. Rum production was so rough that it was known as "the liquor that turns you mad".
In 1698, only 207 gallons of rum were imported. However, at the beginning of the 19th century two million gallons were imported each year. The reasons for this dramatic increase were simple: a natural evolution of distillation techniques and the fact that rum became fashionable. By 1690, rum underwent something of an American revolution with the development of distilleries in Boston, Newport and Medford. As a consequence, rum quickly became more popular, and a part of the American life in taverns, during weddings or wakes, when preachers were ordained, etc.
Rum production grew to such extent that it took a primary role in the economy of the colonizing nations. At that time, slavery was the main labor resource for all industries, including rum. Whole cities were built on the profits from slavery: Nantes and Bordeaux in France, Bristol and Liverpool in England, and Newport, Rhode Island in the US. With slavery being progressively abolished over the 19th century, sugar production, and with it rum production, fell. However, this gradually allowed the colonies of Guyana and the Spanish Islands (Cuba and Puerto Rico) to occupy a more important role in the rum scene.
Process refinement
In this context, Cuban rum literally took off thanks to several initiatives stemming a diversification of production styles and experiments with flavors. Thanks to the 'continuous-still' process, Cuba produced increasingly higher volumes of lighter rum in the middle of the 19th century. All these innovations created a fertile environment for new brands of Cuban rum. Even though Cuban rum was rising, Jamaican rum was still considered the best in term of quality and flavor.
At that time, science had a greater importance in rum production and innovation. Despite these improvements, rum production and consumption was not as high as during previous centuries. Indeed, during the early 1900s, rum consumption dried up in America, blended Scotch and Irish whiskeys took over the throne in the UK, and French brandy producers asked for importing quotas in their country. In the meantime and although rum consumption dropped, the nationalisation of the Bacardi company, along with 300 other Cuban private enterprises by Fidel Castro in 1960, forced Bacardi to move to Puerto Rico. Fortunately for Bacardi, a distillery had already been established in Puerto Rico in 1937, providing the ground for the company to develop and grow creating a new international center for rum sales.
The big brand era
After two World Wars, and along with the arrival of vodka and a resurgence of whiskey on the global spirit scene, we saw branding become an increasingly important factor. It was in this context that Captain Morgan was created, in 1945. Although big spirit brands emerged at that time, rum was still far from reaching the quality we see nowadays, with our rich, aged, and expertly blended elixirs. This was the result of European brands importing rum from Caribbean Islands in bulk and producing their own blend for the local markets.
Like a phoenix rising from the ashes, the end to the 2nd World War saw a resurgence of interest in rum. Sales boomed again, although only for a short time – the oil crisis of the 1970s brought rum production back at low levels until the 1990s. The turn of the century saw the emergence of a new, more mature era for rum, with a very diversified market.
One of the most precious and unique feature of rum is its amazing diversity, a result of its complex and global history. As rum enthusiasts, Rum Social Club has come to appreciate rum for its diversity, its history… and its incredible flavors.